Succulent Garden Slime
Regular price

Sale price

$16.00
Hurry, only 4 items left in stock!
Texture
This one-of-a-kind slime is, like, seriously next level, with a super satisfying crispy-crunchy vibe thanks to the chunky sand and fluffy perlite. It's loaded with all the pops and sizzles you crave. And when you mix in those clay bits, it's a total game-changer. Texture? It stays on point, but watch it morph into a rad bright green shade. 🤙💚
Scent
 

🌱 

Fresh cut grass 

🌱
Play Level
 Intermediate
"I'm all about plants, but I swear, even a cactus gives up on me if I give it the wrong look!" - Brian
That got me thinking about how I could capture that planty vibe without the guilt of plant murder, and that's when "Succulent Garden" was born.
"Succulent Garden" is a clear slime that's rocking a delightful scent, kinda like succulent plants or freshly mowed grass. 🌱🌱🌱 You have the option to leave those clay pieces untouched and keep the slime in its natural state.
The coolest part? After a chill sesh, each layer in this slime gracefully separates, giving you that fresh and untouched feeling all over again. 🌵✨
Materials

This item may contains borax, glue, baby oil, glycerin, lotion, instant snow, cosmetic pigments, fragrances, air dry clay, fimo slices.

*Some charms added to the slime may bleed and alter the color of the slime slightly but it won't effect the texture.

**Color of slimes may differ slightly from the picture due to different lighting or different monitor setting.
Shipping & Returns

Please allow 2-3 business days (Mon-Fri) for your order to be processed and shipped.

(Free Shipping promo only shipped with Economy 5-8 days.)

Economy: $8.75 (5-8 days)

Standard: $10.99 (3-4 days)

Express: $16.99 (1-2 days)

*Please check our Shipping Policy & Refund Policy for detail information.
Care Instructions

Wash hands before and after each use.

Slime may arrive sticky due to different climates, which can be easily fixed with the activator pen included.

Please check out the Slime Care section for more info.
Warning

Do not purchase if you think you are at risk of having an allergic reaction to borax, glue, cornstarch, baby oil, lotion, soap, food coloring, instant snow, cosmetic grade pigments, and/or fragrances/essential oils. Slime is recommended for ages 6 and up. Always keep away from small children! DO NOT EAT SLIME.
Share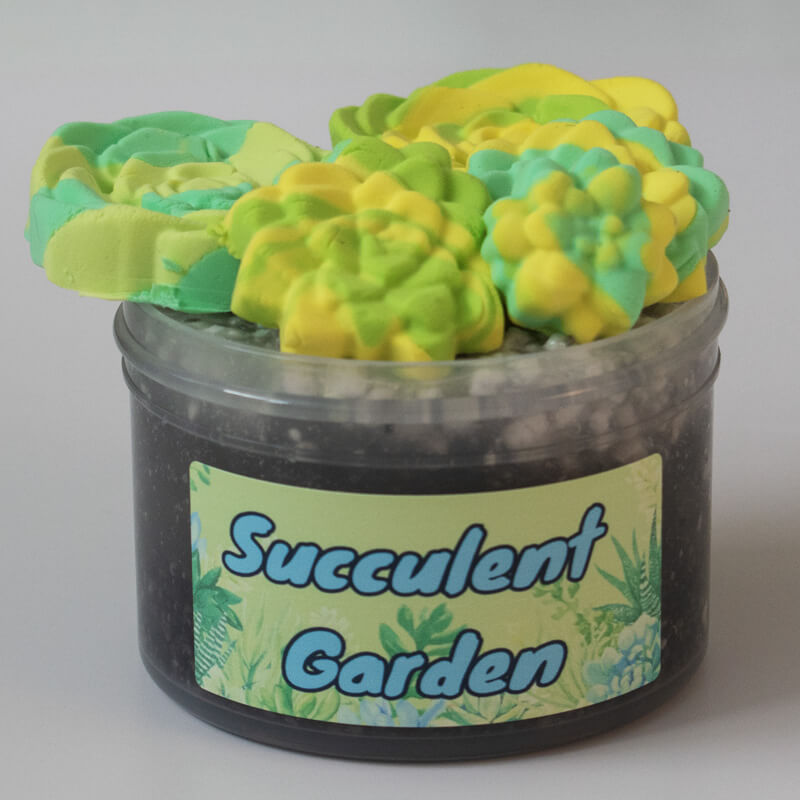 Play Level
🐣 Beginner

Beginner level slimes are perfect for people who are just starting to learn how to handle slime. They're less sticky, denser and great for warmer hands.

Read More

🐥 Intermediate

The intermediate level is for people who have a basic understanding of how to make and play with slime, but want to learn more advanced techniques.

Read More

🐤 Advanced

Advanced slime players are experts in all things slime-related. They know how to play with any type of slimes. They also know how to use activator solution to fix a sticky slime.

Read More
Succulent Gardens
This slime has an incredibly unique texture, both before and after the clay piece is mixed in. I kept half of the container unmixed because I enjoy both textures so much! For the unmixed portion, the small black rocks settle and the perilite floats so it creates a cool layered affect that is very satisfying to remix time and time again. When stretched in the clear base there is a visual that reminds me of an astroid field. It makes great snaps and pops during play. When mixed with the clay piece, there is a very nice soft texture that creates softer pops and it is easier to stretch. The color is very beautiful. The clay pieces themselves are incredible - it was hard to destroy them as they are so beautifully crafted. The perilite is one of the nicer types I have had in slime - they are small and very easy/soft to crush which I prefer to harder and larger perilite. The smell is shockingly realistic. It smells EXACTLY like a plant. It reminds me almost of snapping a flower stem or very fresh leaves. If I had to pick another word to describe it, it would be chlorophyll. This is not a sweet, flowery, or fruity scent so I would be aware that it's going to smell like real life if you purchase!!